Standing Out From The Crowd: How To Get The Humanitarian Job You Want
Tips & tricks from CTG's Rapid Recruitment and Deployment Team
Finding a job can be tricky," says RRAD. "Let alone a humanitarian job that's remote, contracted and challenging. At CTG our aim is to find the best candidate for the job, a person with the right skills, personality and experience to fit the job requirement our client needs to fill.
Here, they shares their tips on what humanitarian aid recruiters look for in candidates.
The following books and courses may be also be beneficial to those seeking a humanitarian job:
Not everyone has what it takes to work in the humanitarian sector. It's tough, sometimes monotonous, and often dangerous, so before even applying, I'd suggest candidates take the CTG humanitarian readiness survey.
What makes for an exceptional CV?
It's important not to see any grammatical errors – attention to detail is important in any job, not to mention employers want to see that you are meticulous and sharp.  It's also a good habit to double check that all contact details are correct. When including work experience, remember to include dates as well as explain what your specific duties were.
Do you have any tips for potential candidates on how to conduct themselves during an interview?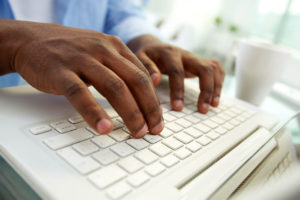 Ensure you have read the job description and understand the key requirements vis a vis your qualifications. Always research the organisation and interviewer. It's a good idea to practise for your interview in a quiet room where you can focus. Prepare examples to competency-based questions and also, make a list of questions you have to ask the interviewer to be able to eliminate any concerns from the start. This will also help with confidence.
During the interview, remember to listen and answer questions thoroughly, and ensure your career goals and ambitions are exhibited. Convey your compassion; in the humanitarian field you will be working with people from so many different backgrounds and nationalities so this component of your character is critical.
For anyone interested in working in the humanitarian aid sector, where would you recommend looking?
Networking is a key part of finding the right opportunity. LinkedIn is excellent for online virtual networking with potential employers. Ensure your profile is up to date on talent pools such as the CTG careers site, humanitarian job portals in-country, as well as internationally recognized ones like Development Aid and Relief Web.
CTG has launched Female First to encourage our recruiters, in country teams and our clients to rebalance the gender scales when it comes to our operations on the ground. Our target is that by 2030, 30% of our project-related roles will be represented by women. What are the challenges you face from a recruitment perspective in implementing Female First?


It's an important and impactful pledge that CTG has made with Female First, which aims to seek out more qualified women in the humanitarian aid field. However the reality of implementing it is not simple. In comparison to male applicants, we get very few female applicants and so for most vacancies we have to reach out through various channels, including LinkedIn, to try to headhunt female candidates.
The second issue we face in the pipeline is, although women's empowerment and diversity has long been on the agenda, we still have a long way to go to convince people on the ground of the importance of hiring women.
In Somalia, for example, the issue we are facing is that there is more female representation from international consultants than from local consultants. Although seeing more women in the field is positive growth, this goes against CTG's pledge to SDG 8 – Decent Work and Economic Growth.
South Sudan, another of CTG's operational zones, is poverty stricken. In places like this, we need more women with income in order to not only provide for their families but build the economy. However, there are still cultural restrictions, and most women who apply are unsuccessful because they lack experience.
What steps are the CTG recruitment team taking to reach more women and encourage them to apply for humanitarian roles in the developing countries and fragile states that CTG operates?
The recruitment team actively headhunts strong female talent and has conducted extensive research on effective advertising and various search platforms such as LinkedIn and online portals such as Development Aid. Reporting on progress is vital if we are to achieve our 30% goal, so the team conducts monthly audits and reporting on female submissions.
At CTG we recognise that education and mentorship is a large barrier to entry for women into the humanitarian job force. The CTG Women in Aid: Internship and Mentorship Programme aims to engage young women interested in aid and development and gender equality to join us for internships in our key offices. This programme works with women of diverse cultural and ethnic backgrounds to provide tangible experience and mentorship opportunities to enable them to develop a successful career in the aid and development sectors.
Our industry teams are vital in the recruitment process, so the headquarters team in Dubai host monthly Female First workshops with all field staff. On the ground, CTG staff in Afghanistan took part in a university seminar in Kabul where they talked to their classmates, encouraging them to apply for humanitarian positions via the CTG website or local Afghanistan job sites. In Gaza, our team held the first ever Female First Career Expo, assisting young female graduates in CV writing and interview skills. In Iraq we post humanitarian job vacancies on Facebook encouraging women to apply. Our in-country team in Somalia is female led, and our Country Manager Iman is rolling out initiatives with women graduates investing in their employability skills and holding panel discussions and workshops on how the Sustainable Development Goals can impact change in Somalia.
There's lots of steps we are taking and we can only grow stronger in our commitment to balancing the gender scales in humanitarian projects. So please, spread the word.
If you're interested in a humanitarian job, sign up here to view all our current opportunities to find positions that match your skills and interests.