5 Humanitarian Jobs You Might Not Have Thought Of
When we think of humanitarian jobs, our first thought is probably someone distributing aid, maybe an emergency nurse or doctor, someone assisting with refugees, a case worker, an enumerator or perhaps a nutritionist.  
What exactly is a humanitarian job? It is often those who are involved in responding to emergency situations and helping or assisting those who are affected by man-made or natural disasters such as war, earthquakes, ongoing violence, floods, etc. However, there are more unexpected roles where both development and humanitarian labels can be applied. These can be roles that are created to work on long-term and sustainable solutions to problems in the humanitarian field.
Jobs like a Structural Design Engineer, AfCFTA Trade Policy Youth Corps or a Political Affairs Officer might not sound typical but are a few examples of important jobs making a real difference in the lives of the world's most vulnerable. We've compiled a list of CTG's most recent and interesting humanitarian jobs you might not have thought of.
1. AfCFTA Trade Policy Youth
Location: Ghana
If you have experience in Economics, International Trade, Trade Law or even International Relations, this could be the kind of job for you. What is AfCFTA? It is the sole organisation in Africa, legally established and mandated to handle the rules of trade between African countries. The goal of the organisation is to ensure that trade is conducted in a smooth, predictable, and free manner across the continent. The AfCFTA Trade Policy Youth Corps was established to promote volunteering to deepen the status of young people in Africa as key participants in the implementation of the AfCFTA. The purpose of this role is to bring people together to share skills, knowledge, and creativity as well as to learn how to build a more integrated continent. You'll also engage with the African youth to formulate, negotiate, and implement trade agreements.
2. Inventory Optimisation Project Coordinator (IOP-PC)
Location: Mali
This job title is quite a mouthful. An Inventory Optimisation Project Coordinator requires skill with a minimum of 8 years in warehouse and inventory management as well as a master's degree in either supply chain, business administration, systems engineering or logistics. The candidate for this role will serve as the focal point for the planning, coordinating, monitoring, and reporting for the sustainability phase of the client's project. S/he will play a crucial role in establishing a realistic replenishment strategy, so the organisation's operations are not negatively impacted. This kind of job demands great responsibility with strong mathematical and analytical skills required.
3. IMAM & Supply Management Senior Officer
Location: Afghanistan
According to the United Nations, 1.1 million Afghan children under 5 could face Severe Acute Malnutrition (SAM) this year. Extreme drought and country instability have led to a lack of food. The main objectives for the Integrated Management & Acute Malnutrition (IMAM) & Supply Management Senior Officer are to support organisations in managing quality IMAM service delivery as inpatient and outpatient care. The incumbent will also manage the therapeutic supply and minimise the nutrition supply stockouts through improved nutrition supply management systems. This kind of role plays a key part in making sure patients with SAM receive the treatment and care they need.
4. Regional Trade Advisor
Location: Nigeria
This position requires at least 10 years of experience in either International Trade, Trade Law, Development Economics, or International Relations. You will also need to be fluent in one of the AfCFTA working languages which is French, English, Portuguese, or Arabic. Another language would be an advantage. You will work alongside the Resident Electoral Commissioner (REC) Advisors' Coordinator in coordinating and monitoring the implementation of the AfCFTA agreement in the Western Africa region.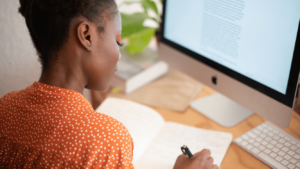 5. Research & Project Development Associate
Location: Mozambique
This is quite an interesting position working closely with several different teams to provide capacity building, coaching and technical advice to people who are working on the stabilisation projects in Mozambique. The overall purpose of this position is to support the client's stabilisation project by implementing community monitoring and participatory project design by being the link between the community reporting team and the Data Analytics and Management Specialist. The latter is responsible for the oversight and quality assurance of all activities within the project.
These might not be your typical humanitarian and development jobs, but humanitarian jobs exist in almost any sector imaginable, whether it be trade, research, communications, or technology. The one thing they all have in common is wanting to make a living while changing the world.
We want to help you land the humanitarian job for you. Here are some tips from our dedicated recruitment team on common competency questions you might be asked if you're interviewed. Read here.
 If you're interested in pursuing a career in the humanitarian and development section, head over to our career portal TAYO and explore the different vacancies that might be suited to your skill set.