The SDG Pioneers Award Belongs To All CTG Staff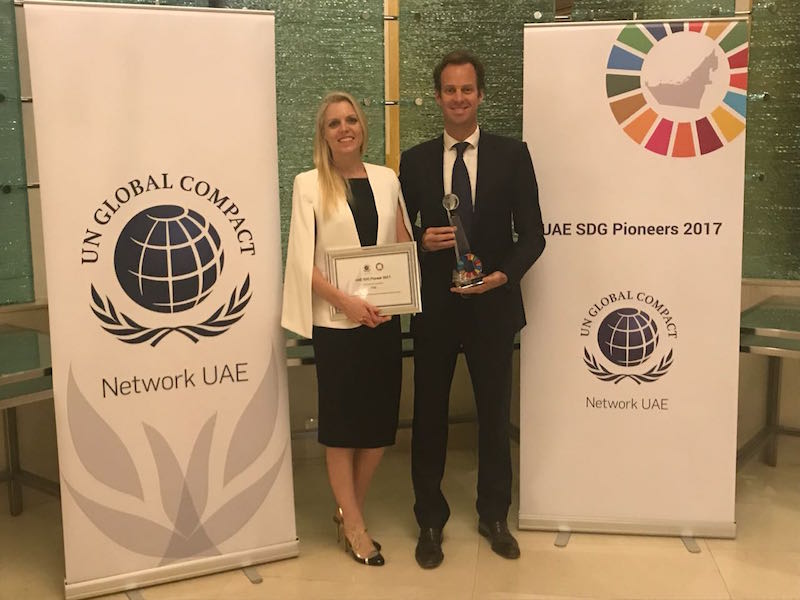 There are those moments in your career that really stand out. For me, this past Sunday, standing on stage alongside our COO James Veysey and accepting the UAE Sustainable Development Goal (SDG) Pioneer For Peace award on behalf of CTG was one of them. The SDG Pioneers campaign recognizes those who do an outstanding job of taking action on sustainable development issues and was awarded to us by the United Nations Global Compact (UNGC) local network representative in the UAE.
We talk about CTG offering 'people solutions, enabling change' referring to the staff we recruit who work on important humanitarian projects but our core staff are also determined to make a difference. We're only at the beginning of our social good journey but the team have taken my social good vision and are ready to run with it, adopting CTG's goals for sustainable development as their own .
With social impact it's hard to know if what we're doing is ever enough. The fact that our effort has been recognised by the United Nations Global Compact, and that the award was evaluated by a high-level committee, led by KPMG, is validation that we are on the right track. And so very gratefully received.

This year has been a journey for all of us at CTG. A year of self-assessment and discovery, where we have assessed what lies at the heart of our brand and really explored how we, as a team, can turn our social good vision into something tangible, that leaves a lasting impact.
At the beginning of the year we embarked on a complete rebranding of the business in line with the strong social good vision of the company. It's been a group effort. After asking the team for their input we decided that CTG stands for Committed To Good, echoing the emphasis we place on doing business in an ethical and sustainable way.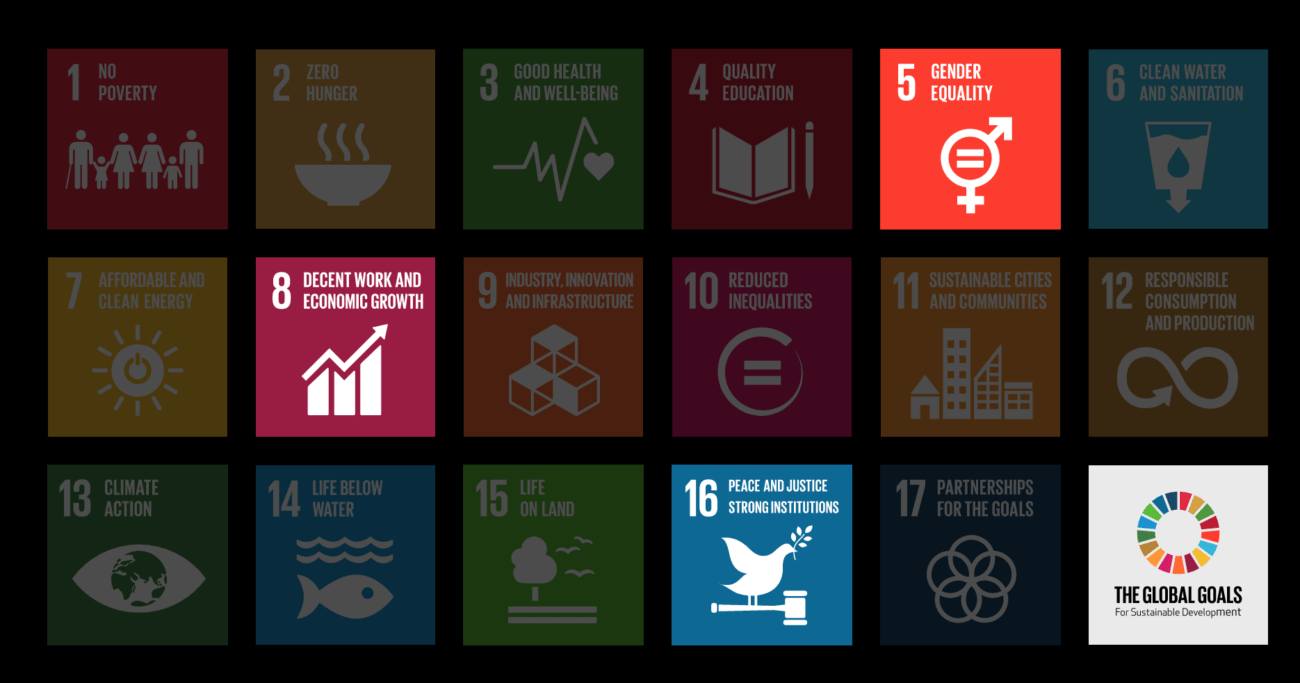 We have chosen the three SDGs where we know we can make a real difference.  Considering that we recruit people and run projects for humanitarian organisations in conflict-affected countries from Somalia to Afghanistan, CTG has made three SDGs an integral part of their social good and business strategy: SDG 5 (Gender Equality), SDG 8 (Decent Work and Economic Growth) and SDG 16 (Peace, Justice and Strong Institutions).
Employing 91% local people on projects, our team is making it their mission to empower women in the fragile environments that they work in – which in turn creates a positive economic impact and contributes to more peaceful societies. From our Champions of Change (male and female) who are helping implement the hiring of more local women into our offices, undeterred by the challenges faced, to our recruitment team who tackle gender bias head on to create a platform we've called Female First. This recruitment initiative has a target of 30% of all project-related roles being represented by women by 2030 – no mean feat considering that women do not receive the same opportunities as men in many of the countries that we operate in.
Watch our acceptance of the prestigious SDG Pioneer award in the UAE on Sunday 26th November 2017:
To receive this award and to be recognised by the United Nations Global Compact alongside other organisations, like Dubai Police and Hewlett Packard, is confirmation that others see as much value in our social good efforts as we do. And when I hear the stories that our staff share with us – such as Eman Abusaada and Amal el Shair civil engineers working on redevelopment projects in Gaza or Tahani Ahmed Ali Omer a translator and field officer in Yemen – it's clear to me that our operations on the ground do create a positive ripple effect in the communities that we work in.
It's the visibility that we have in these countries that makes it so important to us to align our business with the SDGs and the 2030 Agenda. It's our core mission to continue doing what we can for SDG 8 and SDG 16 – creating job opportunities, economic prosperity and peace – and we will continue to be a change agent when it comes to gender equality, SDG5, a goal that I feel particularly passionate about.
It doesn't matter how large or small the business is, it's about being resourceful and creative with what is within your capability to make a difference.
Winning awards like this – as well as the 'Most Female Friendly Employer' award in the MENA region at the Women in Leadership Economic Forum – adds even more motivation to our actions.  It doesn't matter how large or small the business is, it's about being resourceful and creative with what is within your capability to make a difference. We cannot take action for all 169 targets of the 17 Sustainable Development Goals but we can contribute in a meaningful and measurable way – and play our part as responsible global citizens. Will you join us?
To find out more about CTG's commitment to creating opportunities for women read our brochure here and visit our website.