Gaza Eman Abusaada
Civil Engineer
A day in the life of CTG staff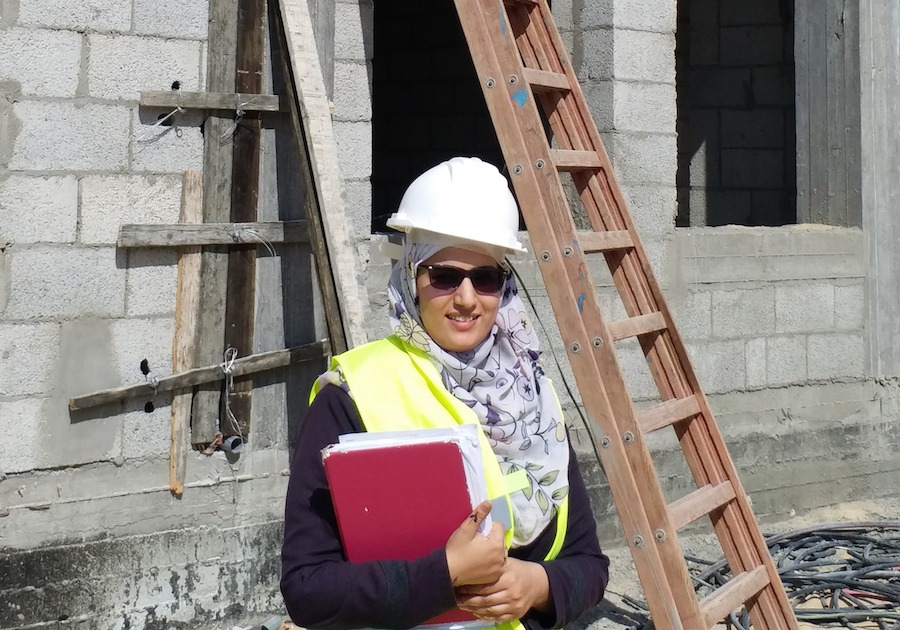 What also makes me vibrant is that the CTG sees a unique opportunity in hiring more engineers-women in its ranks, not to mention that it aims to hire 30% women as a part of its strategic plan by 2030.
After my studies, I was involved in numbers of projects and jobs in Palestine, Jordan and the United States. It has been an honour for me, to represent Palestinian women from STEM field, in the US State Department program Techwomen. This exchange program gave me a unique opportunity to learn about the most advanced technologies in the engineering field and deepen my knowledge and professional experience. It was a life-changing and an inspiring experience which gave me a broader perspective on the engineering field as well as a great opportunity to network and make new friends and acquaintances with a variety of cultures and backgrounds. All this helped to attain the experience I have today and promoted me to fill a prominent spot among the CTG family worldwide.
My workday begins with a fast check into my work emails. Then, I check the website dedicated to our work. Next, I go to the work site to oversee the numbers of large-scale projects, such as a new sanitary landfill site which is being constructed in Sufa Area, southern Gaza strip, along with numbers of other intrinsic infrastructures and shelter projects. After my field tour, I return to my office and record the data I collected in the field and try to dedicate a part of my time for personal development. I believe the CTG thinks about its employees and creates excellent conditions for professional growth. There are different capacity building sessions which are held within the Company such as occupational safety and security sessions. And I'm proud that my colleagues at the worksite, on one of my projects, comply with safety codes as I do, and my approach of leading by example rather than giving instructions or writing notices and advice works pretty well. I'm proud of being an employee of the CTG and I think it has contributed immensely to my experience, and I anticipate that it will give me an edge to pursue my future endeavours.
However, being an engineer-woman is no fun and games; the conservative setting in the Gaza strip and the lack of jobs makes it hard for women to pursue engineering jobs and poses more pressure on women to make a breakthrough and be on par with their male counterparts. Luckily for me, I have been committed to burnish my skills and build my experience since my early age because I need not only to endure such hardships but also to deliver my tasks in a timely fashion. What also makes me vibrant is that the CTG sees a unique opportunity in hiring more engineers-women in its ranks, not to mention that it aims to hire 30% women as a part of its strategic plan by 2030. Such a flourishing facility makes me feel prouder to be part of it, and it gives me the drive to thrive. I believe in a promising future for women in civil engineering, which, with the nurturing of the feminine touch, will go a long way into making our future brighter.
Furthermore, the CTG is also interested in recruiting its team members around the globe, and that gave me the opportunity to communicate and make friends with various CTG employees who were kind enough to provide me with counsel as well as bring some gifts as a token of friendship from different countries. For instance, I received an exotic gift: a wooden statue with a piece of Ugandan barkcloth garment from my Supervisor. I was grateful to have such a beautiful gift as it truly reflects one of the things I hold to my heart: cultural diversity and humanitarian unity.
Despite the obstacles Gazan-women is going through, which confront their way to pursue a career as an engineer, I can still see the light at the end of the tunnel. The opportunity I have with the CTG is a thing I'll never take for granted, and I will strive to enrich my experience more and more and hopefully I will be an example for every young woman who wishes to become an engineer one day. Who knows? Maybe the experience I will convey and the example I present will contribute towards rebuilding a strong and sturdy Gaza and maybe that will help to achieve a long-awaited peace in the region.
STORIES FROM
Middle East & North Africa