Why 'Most Women Friendly Employer' Award Makes CTG So Proud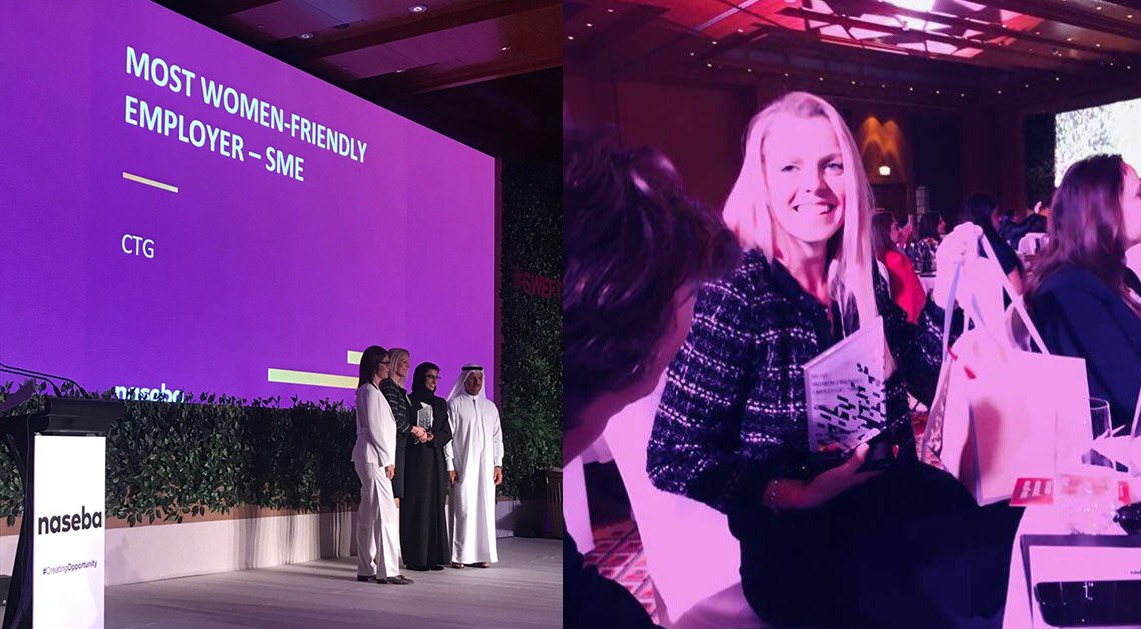 CTG was honoured to be awarded the 'Most Women Friendly Employer Award' for SMEs in the MENA region at the 19th Global Women In Leadership (WIL) Economic Forum last week. It couldn't have come at a more inspiring time for the company as during 2017 CTG publicly committed to SDG 5 and launched the Female First initiative. This CTG recruitment programme focuses on employing more women in the conflict-affected countries where CTG works supporting humanitarian projects.
The marketing team sat down with our CEO Alice Laugher, who is Chair of WEPS UAE, to hear why this award makes her so proud of CTG .
What are the WIL Achievement Awards?
"The WIL Achievement Awards reward entrepreneurs, business leaders and organisations for their exemplary leadership and strong commitment to supporting the development of women. At this year's WIL event, CTG was in impressive company – the lineup of speakers was so inspiring, ranging from CEOs to poets, royalty to film directors."
Why is this award so exciting for CTG?
"I'm blown away to receive this award as it is given to us in a defining year where our commitment to gender equality has emerged as a key focus of our business strategy. This year's event was themed 'The Butterfly Effect, From Intent to Impact' and I felt like this title was speaking directly to what CTG is achieving. We have analysed where we can really make a difference in the conflict-affected countries that we work in; we've seen the ripple effect that happens when you empower women in these communities and it's a key step in the path to peace and stability.
This award acknowledges how we are committed to the cultural, training and mentorship needs of women in the workplace, in the world's most challenging countries where often women are not encouraged to work. I hope that this will inspire more women to work with CTG. We are at the early stages of our gender equality journey but we are determined to continue making a difference in the countries we operate in, such as Somalia, Yemen and Libya."
Why is CTG deserving of the award?  "This year, CTG launched the Female First initiative, which is committed to balancing the gender scales in our workplaces. These are challenging workplaces – countries that have been affected by conflict or natural disaster – where local women face cultural challenges entering the paid workforce and are often not given equal opportunities.
CTG also employs international teams to work on projects and it's often the case that women are not considered for these positions due to the nature of these hostile environments. This year we went through all of our roles and asked, 'Why not a woman?' This required a massive mind shift even for a majority female team. Our answer is now a unified, 'Yes, women can do all of these roles', from clearing mines in Mali to managing construction sites in Gaza to driving trucks in Sudan and Darfur or managing the humanitarian return of migrants in Libya.
Partnership is a key focus of our Female First initiative; CTG's goal is to work with local governments, NGOS and local woman-run organisations in conflict-affected countries to ensure we have the local reach and cultural understanding to achieve our goals and to assist in creating locally appropriate training courses for men and women who work for us.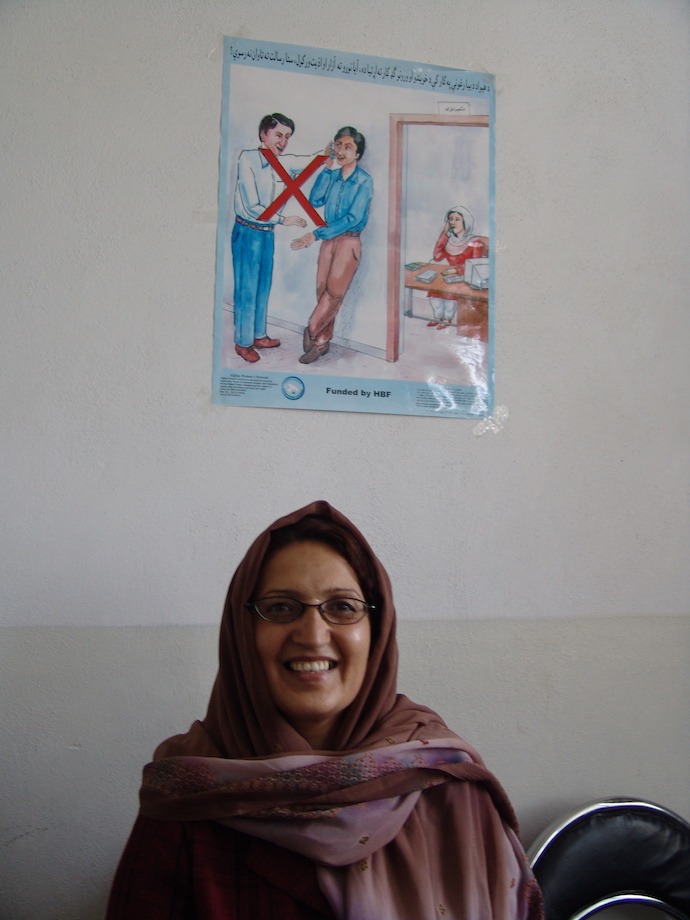 It's all very well putting women into the workplace but training is essential to tackle unconscious and conscious gender bias and ensure that all involved are as comfortable, respectful and ultimately as productive as they can be.
And then, as well as creating job opportunities for women in conflict-affected countries, CTG has committed to an internship programme that focuses on empowering and mentoring young women in our offices. Given the right opportunities, these women have the potential to be our future leaders."
What is Female First's target? "For our initial target, Female First pledges to get 30% of our project-related roles filled by women by 2030."
What are the challenges faced by CTG in employing more women?
"Not only do cultural challenges abound but there are often cost implications when employing women in conflict-affected countries. For example, when employing two women as part of our Kabul office team we had to create safe, secure, separate women-only offices, meant additional cost. There was the need for chaperones to accompany them to and from work. Flexible works hours were required for personal and security reasons and all our male staff were trained on gender sensitivities and unconscious bias. It is about looking at the possible rather than letting barriers stop us.
Unconscious bias. Too often the mindset in both men and women is that working in high-risk environments is not appropriate for women, regardless of their qualifications, skill set and experience.
Reaching women. This can be culturally challenging in many of the countries we work where, for example, internet might not be readily available or if it is available not something women might have access to."
How is CTG tackling these challenges? "We are working with our clients to increase budgets to allow for gender-sensitive working environments – to make this as effective as it can be it needs to be done in partnership. We continue to unlock gender bias with recruiters and our clients who are responsible for selecting candidates. CTG is also helping educate local communities on bias around women in the workplace and encouraging mothers, wives and daughters to get a good education. And then we are focused on reaching more potential female candidates by increasing our visibility, connecting via outreach programmes and helping women access online applications in areas where internet is not always readily available."
What do our numbers look like in the quest for 50:50 gender balance?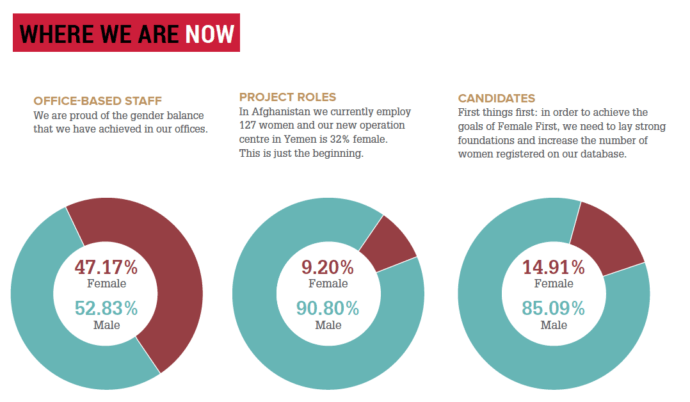 "In Afghanistan we hire more than 120 women; in Yemen our new operation centre is 32% female. We have started to see our Female First work pay off with a spike in registration of women. Before we launched this new platform, the number of women registering on our site was typically around 70 a month. In July and August 2017, this hit 342, an increase of 24% and a direct result of our outreach campaign for more women to apply for our job vacancies.
We hope that this award will help get our message across to potential female candidates that CTG is committed to gender equality and employing women, for the long-term. It is exciting times for us and we hope our clients will join us on our gender equality journey."
To find out more about our working opportunities, sign up via our portal