The Refugee Crisis: Where It Started And Where We Stand Today
This year's theme at DIHAD – one of the world's largest humanitarian aid and development conferences –  is "People on the Move: Causes, Consequences, and The Way Forward." Humanitarian leaders from around the world, including CTG CEO Alice Laugher, came together to discuss the issues and share ideas on how to move forward. Now that the world is witnessing the highest levels of displacement it's ever seen, the global refugee crisis remains a critical talking point.
When did the refugee crisis start?
When the Syrian civil war began in 2011, the influx of people seeking asylum in Europe began to rise. In 2015, however, there was a sharp incline due to the uprisings in the Middle East and North Africa. According to this article by The Guardian,
1.8 million refugees have arrived in Europe since 2014, more than 1 million of them in 2015 alone.
UNCHR reported that nearly 1 person is forced to flee their homes every two seconds as a result of conflict or persecution. That amounts to around 44,000 people a day. They also reported that "by 2017, wars and conflict brought the number of forcibly displaced people around the world to 68.5 million." That's more people on the move since World War II.
Mercy Corps paints an interesting image of what these numbers could actually look like: "It would be like over half the population of Japan going homeless. Or everyone in the U.K. fleeing and leaving an empty nation behind them. It would be like the states of California and Texas slowly draining of every doctor, teacher, engineer and entrepreneur until there was only barren land left behind."
As more and more people need asylum, the world seems to be doing more and more to keep them out. According to research by the geographer Reece Jones, 15 countries had walls or fences on their border in 1990; today there are 50.
Before we move on, it's important to know the difference between a refugee, an internally displaced person (IDP), and an asylum seeker.
Internally Displaced Person (IDP): Like refugees, Internally displaced people (IDPs) are forced to flee their homes because of safety, but they remain in their country.
Asylum Seeker: An asylum seeker is someone who is seeking international protection from the dangers in their country but needs to apply for asylum before granted refugee status.
Where do the refugees come from?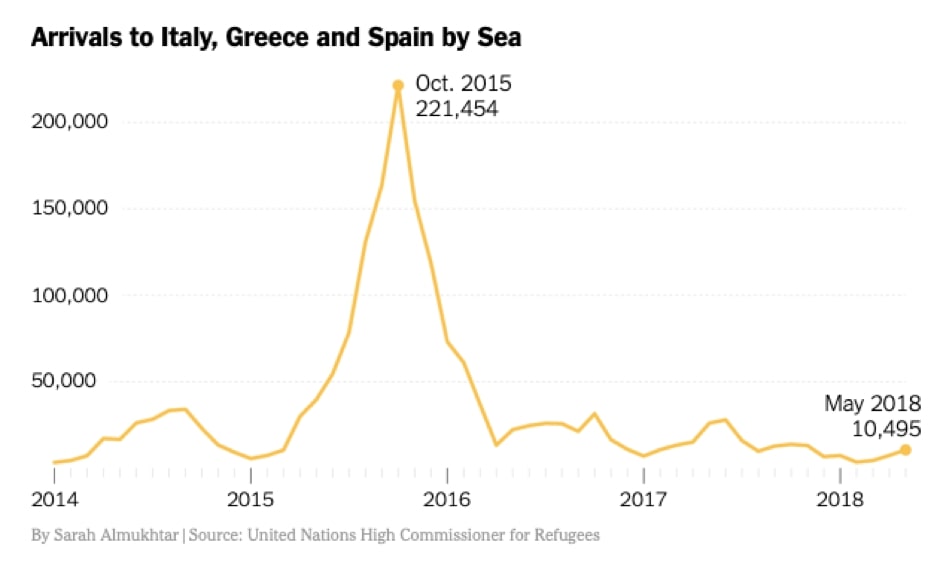 According to UNCHR, 68% of refugees worldwide come from Syria, Afghanistan, South Sudan, Somalia, and Myanmar — all countries that are experiencing violent conflict and insecurity. The top five host countries of refugees are Turkey, Uganda, Pakistan, Lebanon and Iran.
According to The Guardian, almost 3 million people claimed asylum in the EU in 2015 and 2016 –  a small fraction of the EU's total population of 508 million. And because of the dangerous routes they were forced to take due to border control, thousands died in the attempt.
The refugee crisis is a global issue. As long as there are wars, there will be refugees. People will have no choice but to continue to move to find a better life –  whether it's because of ongoing conflict, extreme poverty, and now in recent years – climate change. According to the World Economic Forum, climate change may drive 660,000 additional asylum seekers per year toward Europe. With rising temperatures, crops are going to fail and it will always be the poorer, more vulnerable countries that are impacted the most.
Changing the world's perception of refugees
Western policy and media depictions have created unfounded fears that refugees pose a terrorist danger. If they're not seen as a threat, they're seen as a burden. When, in fact, they're just people trying to survive. In their new book, Refuge: Rethinking Refugee Policy in a Changing World, Oxford professors Paul Collier and Alexander Betts argue that refugees should be seen as people with a potential source of knowledge, skills, and capabilities. People that could bring on economic development if they were embraced and allowed to work in their asylum countries – instead of keeping them in reception centres and camps.
This article on Quartz reports that in Uganda, "21% of refugees own a business that employs at least one person and 40% of the people they employ are host nationals." It also reports that Jordan, a country with a population of less than 10 million people, "has taken in around 1 million Syrian refugees and has established special economic zones, where refugees are given the right to work in certain industries and companies."
Where do things stand now?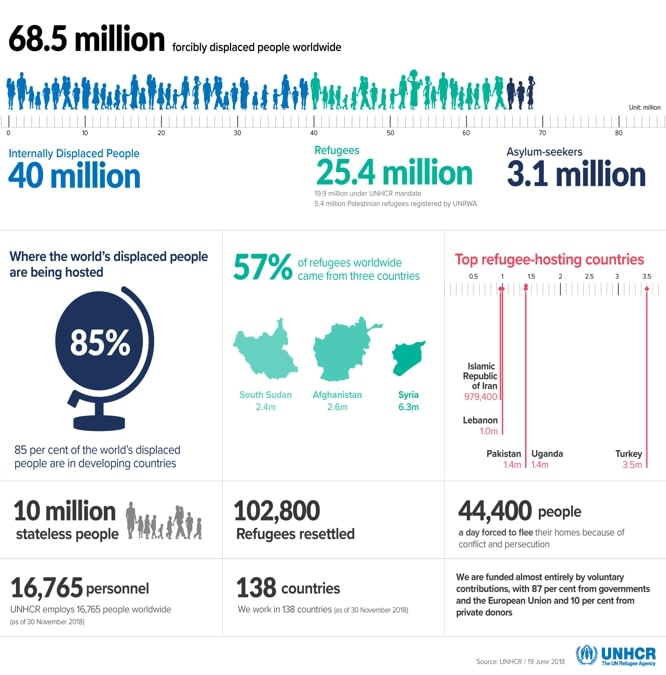 The refugee crisis isn't over. There are far fewer refugees arriving in Europe not because there are fewer refugees in the world, but because crossing the Mediterranean sea has become a lot harder. The EU has increased measures to deter unwanted migrants. For example, Italy now refuses boats with refugees and migrants to dock. Venezuela is also now experiencing a refugee crisis. In their book Refuge: Rethinking Refugee Policy in a Changing World, Paul Collier and Alexander Betts also argue that strict border systems is not the solution to the refugee crisis, it only exacerbates the problem. Wealthier, industrialized countries have the power to help, and the only way to solve the crisis is with international support.
CTG is an active member of the United Nations Global Compact's Business for Peace initiative. Two of the SDG's we focus on, SDG8 Decent work and Economic Growth and SDG16 Peace and Justice aims to not only assist refugees and internally displaced persons, but empower them by creating employment within the refugee camps where possible.
Read here for more information on the services we offer.