Read our 2022 Sustainability Report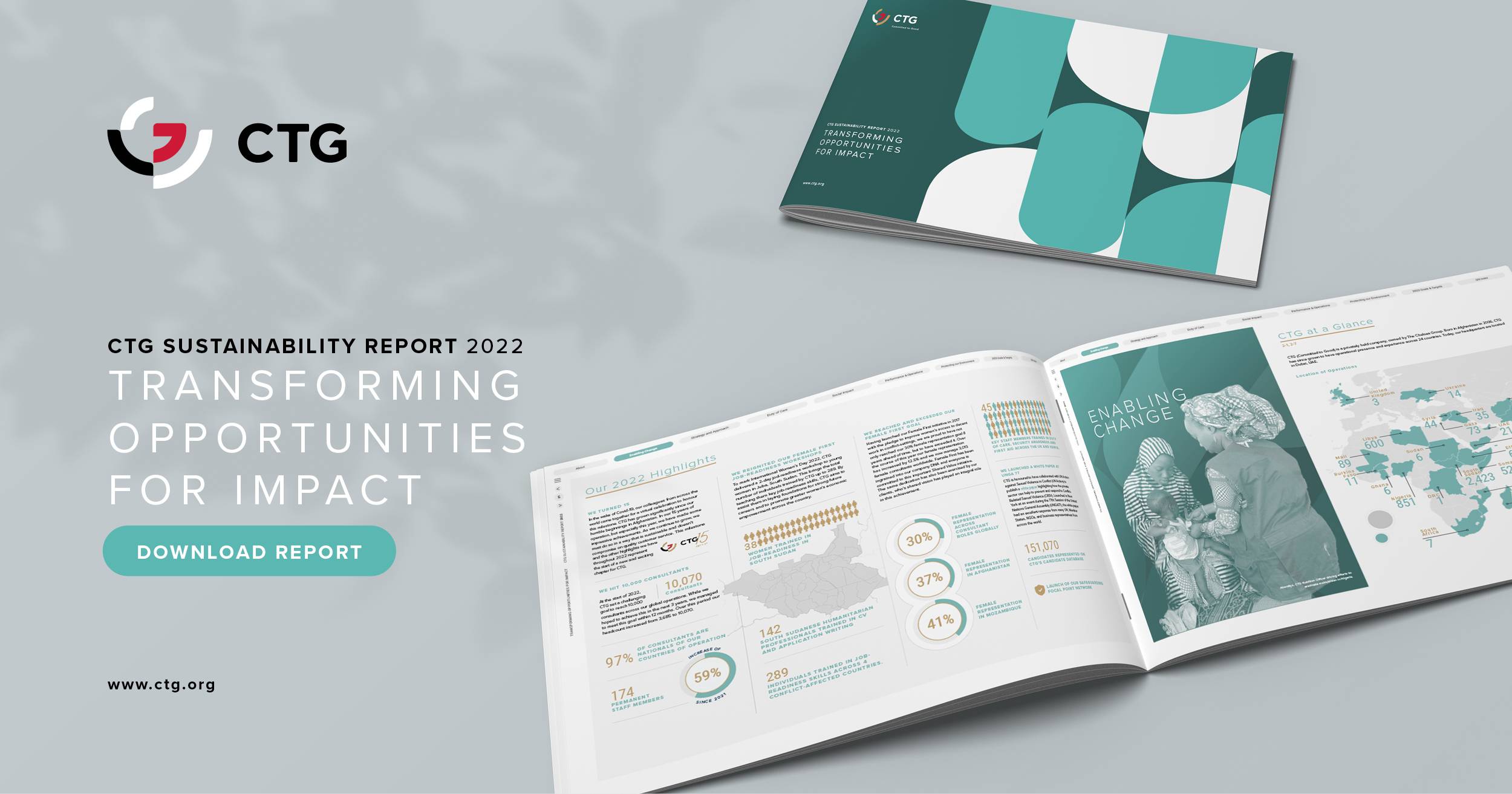 We are pleased to announce that our most recent Sustainability Report, "Transforming Opportunities for Impact" is now live. You can find the report here.
Transforming Opportunities for Impact
CTG supports critical humanitarian and development operations across 24 countries worldwide. People are at the heart of what we do, and ensuring we are delivering a positive impact in our local communities is a key part of how we do business. This commitment is guided by our Shared Value strategy but transformed into opportunities for impact by our many teams and representatives on the ground.
2022 was a strong year for CTG's business and our teams have realised a number of significant milestones and achievements. However, we wouldn't have achieved this without the support of our clients and consultants, who are at the core of our efforts. We continually strive to improve our processes and systems to ensure we are providing them with the best Human Resources management services and strong level of Duty of Care that is necessary to protect staff in high-risk environments. We see this as imperative to ensure our many humanitarian and development professionals can continue delivering their important work.
Our 2022 Highlights
WE TURNED 15
CTG turned 15 and our colleagues from across the world came together for a virtual celebration to honour this milestone. Over the 15 years since our inception in Afghanistan a lot has changed. Not only has CTG grown significantly in size, but also in our commitment to delivering a positive impact, for our clients and our local communities. As we continue to grow, we must do so in a way that is sustainable and always makes quality customer service our priority.
WE HIT 10,000 CONSULTANTS
At the start of 2022, CTG set a challenging goal to reach 10,000 consultants across our global operations. While we hoped to achieve this in the next 3 years, we managed to meet this goal within 12 months. Over this period our headcount increased from 3,685 to 10,070.
WE REACHED AND EXCEEDED OUR FEMALE FIRST GOAL
Having launched our Female First initiative in 2017 with the pledge to improve women's access to decent work in conflict-settings, we are proud to have not only reached our 30% female representation goal eight years ahead of time, but to have exceeded it. Over the course of this year our female representation has increased by 12.5% and we now manage 3,013 female consultants worldwide. Female First has been ingrained into our company DNA and everyone is committed to this important Shared Value initiative. The same dedication has also been exercised by our clients whose shared vision has played an integral role in this achievement.
WE REIGNITED OUR FEMALE FIRST JOB-READINESS WORKSHOPS
To mark International Women's Day 2022, CTG delivered a two-day Female First Workshop to 38 young women in Juba, South Sudan. By teaching them key job-readiness skills, CTG aims to assist them in laying foundations for strong future careers and to promote greater women's economic empowerment across the country.
WE LAUNCHED A WHITE PAPER AT UNGA 77
CTG collaborated with UN Action against Sexual Violence in Conflict (UN Action) to publish a white paper highlighting how the private sector can help to prevent and respond to Conflict- Related Sexual Violence (CRSV). Launched in New York at an event during the 77th Session of the United Nations General Assembly (UNGA77), the white paper had an excellent response from many UN, Member States, NGOs, and business representatives from across the world. Read the white paper here.
ELEVATING OUR PREVENTION OF SEXUAL EXPLOITATION AND ABUSE EFFORTS
Supplementary to our Safeguarding Think Tank and corresponding strategy, 2022 saw the introduction of our Safeguarding Focal Point Network. This network is made up of trained in-Country representatives dedicated to implementing our Safeguarding commitments and activities on a country level. In addition to designing and rolling out localised communications and awareness strategies, these focal points will lead CTG's commitment to re-train all our consultants in Safeguarding throughout the year and beyond.

These examples offer a glimpse into CTG's many highlights and activities of 2022. To read more about CTG and what 2022 looked like for us, please view the full report here.
We recognise the importance of partnerships and collaboration to advance global development. If you are interested in learning more about our Shared Value programmes, or see the potential to partner or collaborate to advance positive social impact in conflict settings, reach out to our Shared Value Manager Mia at mia@ctg.org.