Insights from an Account Manager in South Sudan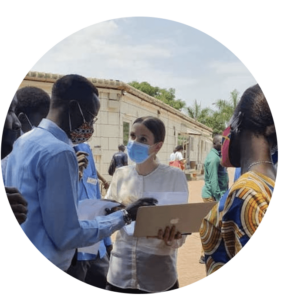 South Sudan Account Manager Coline Chabert reflects on CTG's Operations in country including onboarding 1800 staff across the country, training young women on accessing the job market and why having a local team is where the magic happens.

How has this year been for the CTG team in South Sudan?
It's been a busy year as an Account Manager! Some key projects have included our Female First Workshop, run with the support of our Shared Value Manager, Mia. The goal was to help young women to access the work market and empower themselves. We were expecting 20 participants and ended up having 40; it was such a success and the participants requested to have more sessions during the year. After the workshop, one participant applied for a CTG position and was selected. She has now been working with CTG for more than 6 months as an administrator for our biggest client in-country.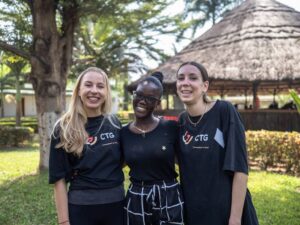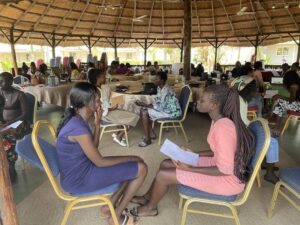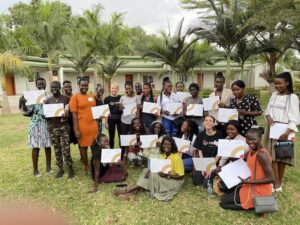 This year also saw CTG taking on the casual labourers of one of our clients IOM (which was more than 1,800 staff). All the consultants are working in the PoC (Protection of Civilian Camps) under different projects and units. We travelled to all the different duty stations to meet the consultants and IOM representatives to present CTG, and explain their new entitlements and their contracts.  
We are also assisting IOM with training 150 of their local staff with career development workshops, through our Committed to Good Curricula which covers CVs and Cover Letter writing. This was in response to feedback from their teams that they would like to have access to more career development support. So that is really great to be able to support in that way. 
Other highlights have included taking on a new client to support their social and behaviour change programme on Covid-19 Vaccinations, as well as supporting on education and health programmes.
The biggest challenges you've faced this year?
One of the biggest challenge we faced this year was the 1800 staff mobilisation due to the scale of the project. South Sudan is a very heterogeneous country with a lot of cultural diversity, so it has been challenging to gain the trust of the consultants in some locations.
Most of them have been working as casual labours for several years and were reluctant to be handed over to CTG; they got the impression they were no longer wanted which of course wasn't true. It took a lot of time and explanations to go through the process smoothly. As a new actor on the project we had to find our place.
How did you and your team overcome this?
The team organised a lot of face-to-face meetings with the consultants and IOM. We took the time to explain the breakdown of their benefits, salary and entitlements.
We went through their contracts together point by point, held townhall meetings to answer all their questions and queries, we reassured them by explaining the partnership between CTG and IOM for them to understand how they fit in it and what they will gain out of it. We implemented processes to smooth the transition and made ourselves available to both the consultants and IOM to support them on any matters.
"It's not always easy to understand all the aspects of a country's culture and sensitivities; having a local team in indispensable."
What are you most proud of?
I am most proud of the collaboration and the relationship with the CTG team. The Admin Team were recruited not long before the rollout of our largest project, they've learnt quickly, and they are very supportive and flexible. We did training in Juba, we worked weekends to meet the deadlines; they have been so efficient, they adapted and learnt, and they are not afraid of the workload. We can rely on each other and we created a true partnership and a very open and honest relationship. The project rollout wouldn't have been possible without them.
"We sometimes feel like we are the invisible middle man but in the big picture we make a huge difference by supporting crucial projects that could not happen without us."
What lessons have you learnt?
Never break the communication with either the consultants or the client. The communication line is one of the most important variables to ensure the continuity of the project and the well-being of the programme. Whenever issues arise it's essential to communicate and explain the ins and outs of the problem along with the way forward.
It is also essential to surround yourself with skilled and complementary people. It's not always easy to understand all the aspects of a country's culture and sensitivities; having a local team is indispensable.
What do you think makes CTG unique?
What makes CTG special is the services we provide in such different environments and the impact we have on so many people, from the clients and the consultants to the core staff. Even though we sometimes feel like we are the invisible middleman in the big picture we make a huge difference by supporting crucial projects that could not happen without us.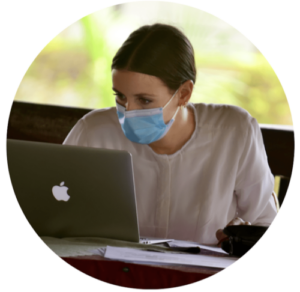 Coline Chabert is the winner of the 2022 CTG Superhero Award, an award given to those who excel in their roles with CTG.  
CTG South Sudan currently manages 2500 staff in country in a range of humanitarian roles across the country with jobs ranging from mechanics, convoy leaders and airdrop coordinators to field coordinators and staff for facilities management.