Getting Support: The Power Of Counselling For Humanitarians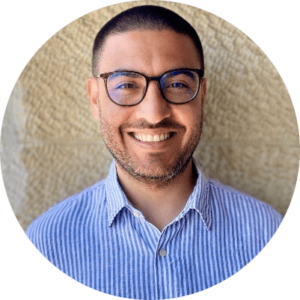 Psychologist Mohamed Lamaa shares his insights on why counselling is a much-needed support service that humanitarians should make use of
Mohamed Lamaa, a psychologist based in Jordan, is a counsellor for Open Briefing, the professional counselling service for CTG Wellbeing.
Q: Why is counselling such a key support service for people working in humanitarian roles?
Mohamed:

As a humanitarian worker, you may be exposed to experiences that can cause you stress and anxiety. In the long run, it might develop into burnout or trauma. Counselling plays a key role in addressing such challenges if they arise – alongside individual self-care and organisational wellbeing. It is essential in developing strategies to try and prevent wellbeing difficulties in the first place.
Q: Are the stresses that humanitarian workers face different from those faced by other people in different jobs?
Mohamed: There are potential sources of stress common to all workplaces. This might be conflict with colleagues, unrealistic workloads, poor management or leadership, being treated unequally, or being undervalued. But the ever-growing number of people affected by disasters and humanitarian crises combined with the deteriorating security environment for humanitarian aid workers can significantly impact the their wellbeing.
Humanitarian workers may be isolated from social environments or colleagues, experience, witness, or be told about violent or traumatic events, fear retaliation from government forces or armed opposition groups, or experience life-threatening illness. Of course, there are also factors unique to humanitarian work that can be hugely positive. For example teamwork and comradery, a deep sense of reward and satisfaction, and unique training and experiences, to name a few.
Q: Is counselling only for people who have been through a traumatic event?
Mohamed: Not at all. While counselling can of course be really useful if you have experienced a traumatic event, it can also be a powerful conversation to help you navigate emotional distress. It can support you in managing conflict or in understanding the different elements of stress that you or your team might experience. As such, it equips you to be more resilient in the face of adversity and to be of greater help to your team and beneficiaries.
Q: What do you think is the biggest misconception around counselling?
Mohamed: There is still a misunderstanding that counselling is only for people with mental health problems. As outlined earlier, it can help you prepare for and respond to all sorts of challenges that life can present.
There is a further misconception that counselling is a long-term commitment. While it is true that some individuals might benefit from long-term therapy, counselling can also be delivered as short-term support as part of a preventive approach or to focus on a specific challenge.
Lastly, in some cultures, counselling is seen as a Western concept that might not align with traditional understandings of wellbeing. When approached properly, counselling should complement – rather than replace – traditional wellbeing practices.
Further, as the science of wellbeing evolves and the mind-body dichotomy is broken down, counsellors may include breathing techniques and other practices in their sessions that would be familiar to people from many other parts of the world.
Q: What should people expect from the session?
Mohamed: Our sessions are delivered in 50-minutes over Zoom or Signal. During the sessions, our counsellors use empathic and active listening skills to create a safe space for conversation, governed by confidentiality. In your first session, we will discuss what brings you to counselling, what you want gain from the sessions, and what some coping strategies are which are already in place. Beyond that, a counselling session might include a discussion about a situation you are facing and exercises and techniques to help you.
Q: What is your hope for your clients after they have had sessions with you?
Mohamed: My hope is that the client can walk out of our sessions with a better understanding of what they are going through, a greater emotional resilience, and clear coping strategies in place.
The challenge when working as a humanitarian worker is that we can often strongly identify with our mission: what is at stake becomes so important that we put ourselves second.
Q: What is your advice for people experiencing high levels of stress and working in humanitarian jobs?
Mohamed: Slow down and reach out to someone you trust. Whether it's your friend, spouse, manager or counsellor. CTG also have specially-trained wellbeing focal points who you can reach out to. When under high levels of stress, our cognitive functions are affected, and decisions become more difficult. Therefore, discussing the situation with someone else is important.
After this conversation, if you are still experiencing high levels of stress, I would encourage you to seek professional support at the same time as addressing the causes of that stress with your manager. Counselling support in these circumstances can help you identify and practice coping strategies and develop an individual wellbeing plan.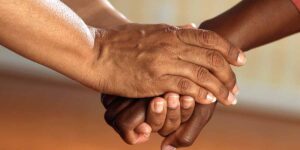 The challenge when working as a humanitarian worker is that we can often strongly identify with our mission: what is at stake becomes so important that we put ourselves second.
If you recognise this in yourself, try to pause for a second and reflect on the following questions: What is the cost of that behaviour? What are some other possible ways to commit to my mission while taking care of myself? Who would benefit from that new way? What is truly blocking me from putting this new way into practice?
Q: How often would you advise people to make use of CTG Wellbeing services?
Mohamed: CTG Wellbeing services give you access to six counselling sessions per year. It is important to note that the impact of counselling may be limited by the level of commitment of the client or the client's ability to engage. Therefore, I would encourage you to use as many of the sessions offered to you as you need to reach your counselling goal. If after three sessions you feel satisfied, then you can stop there.
Q: Will CTG know if I am enrolling in the counselling programme?
Mohamed: CTG Wellbeing services are confidential and implemented directly by Open Briefing. When you fill in the referral form, only Open Briefing will receive that information. We follow strict GDPR and HIPAA rules on data protection.
However, exceptions can occur when there is a risk of serious harm to self or to others that would require Open Briefing to share information with your emergency contact, the emergency services, and sometimes CTG. We will always try to talk with you about this in advance if possible.
Q: How do you book a CTG Wellbeing session?
Mohamed: If you work for CTG, you can book a session via this secure form and a counsellor will be in touch within three working days: https://forms.gle/BFJbRXrqrRccA8ER9
If for any reason the form is not working, you can reach out to Camille Gallié, the Wellbeing and Resilience lead, at wellbeing@openbriefing.org and she will connect you to the right counsellor.
Find out more about CTG Wellbeing here.