Creating Employment Opportunities for Women in Gaza
Despite only measuring 140 square miles, the Gaza Strip is one of the most densely populated regions in the world and has faced years of conflict, poverty, and humanitarian crises. Since the Islamic Resistance Movement (HAMAS) became the de facto governing authority in 2007, Gaza has been subjected to a land, sea, and air blockade, isolating Gaza from the rest of the world.
Due to the blockade, economic growth in Gaza has stagnated. With an estimated poverty rate of 64%, many families struggle to meet their basic needs. The unemployment rate for women in Gaza is still much higher compared to men. According to the World Bank, women's participation in the Gaza labour force has not exceeded 21% in 30 years.
CTG not only provides staffing solutions to humanitarian clients in Gaza but also as part of our own global support team based there. In an effort to level the playing field, CTG has established a predominantly female team in Gaza with flexible working options offering a better work-life balance.
While several of the team work as Account Associates supporting our staff in the field in Gaza, others are part of CS3, standing for Customer Success, Services & Solutions, and work on recruitment, digital projects as well as the helpdesk response team supporting our consultants around the world. "Remote and flexible work has provided women with more work opportunities outside of traditional expectations, it enables us to pursue a career of our choice without having to compromise on our family responsibilities," says Shaimaa Rostom.
Meet The Women of CTG Gaza

Pictured: Lubna Musa, Manar Hania & Hadeel Abu Amr.
Lubna Musa – Account Associate
Lubna was born in Rafah, Gaza Strip but spent most of her childhood in Saudi Arabia. She returned to Gaza to obtain a degree in Accounting at Al-Quds Open University in Gaza. Lubna is responsible for managing all assigned consultants and coordinating all project requirements to help clients achieve their objectives in accordance with the scope of work. "My favourite part of my job is that each day presents a different challenge to overcome, this excites me and helps me develop my problem-solving and research skills. I become more resourceful every day," she says.
Manar Hania: CS3 Associate – FLO
Manar comes from a coastal city in Gaza Strip, Dairelbalah, but now lives in Gaza City. She majored in French which has helped her to develop highly effective communication skills. Manar is responsible for assisting the procurement team with purchase orders and managing consultant contracts. "I love learning about different cultures and my work affords me the opportunity to meet people from diverse backgrounds, this enriches my knowledge about the surrounding world," says Manar.
Shaimaa Rostom: CS3 Associate – Digital
Shaimaa has been living in Gaza since a young age and obtained a degree in Software Engineering at the University of Palestine in Gaza. She is the team's go-to person if you need help solving complex technical problems. "I pursued a career in Computer Science because it is such a dynamic and limitless industry," says Shaimaa. In addition to tech support, Shaimaa also supports the team with timesheet generation, contract creation; and updating profiles on Tayo.
Hadeel Abu Amr: CS3 Associate – Rapid recruitment and Deployment
Hadeel grew up in one of the oldest neighbourhoods of Gaza City, Al Shujaia. Hadeel lost her mother at a young age and was left with the responsibility of caring for a large family. She says this has formed her into a strong and resourceful leader that can overcome any challenge. She works together with Suzan to support the team with the recruitment and onboarding of consultants. She obtained a degree in English Literature at Al Azhar University in Gaza City, which she says helps her in building lasting relationships with both clients and consultants.
The team is supported and led by the Operations Manager for Gaza and Yemen, Mahmoud Shehada who is proud of the progress his team has made over the past year. He says, "The team is incredibly passionate and results-driven. Our clients' satisfaction pushes us to achieve more and more positive outcomes. This experience taught me a lot about the value of teamwork and highlighted the importance of nurturing everyone's unique gifts and talents."
The Challenges of Living & Working in Gaza
The ongoing conflict and isolation in the Occupied Palestinian Territory have created many challenges for the people of Gaza. Hadeel Abu Amr speaks about the realities that women face living and working in Gaza.
"Being a woman in Gaza means that you live in a constant state of worry. The repeated aggression against the Strip, the Siege, the isolation, and the restriction of travel have affected our social, economic, and cultural rights. We have challenges accessing healthcare and education and have limited economic opportunities, not to mention the constant fear of falling victim to violence or displacement," she says.
Power cuts are another challenge the Gaza team is faced with. The electricity supply remains at severely low levels in Gaza, with power cuts lasting up to 16 hours a day which can result in poor internet connectivity. Account Associate Lubna Musa explains how the team prepares for this to make sure they operate efficiently. "We are adapting ourselves to live and work under these conditions by investing in alternative power sources such as solar power banks, and USB broadband sticks, printing out required documents ahead of time, or arranging backup workspaces such as Wi-Fi cafes," she says. "Proper planning and preparation are the keys to success."
Job Satisfaction
Working for CTG adds further value to the Gaza team's job satisfaction. A recurring theme among the team is a feeling of pride in using their knowledge and skills at a company that enables humanitarian projects, around the world but also in Gaza itself. "I'm doing a job that reflects my values," says Suzan.
CTG's commitment to women's empowerment also resonates with the team. Creating work opportunities for women, especially in regions like Gaza where gender equality in the workplace still has a long way to go, is an important goal. "I am grateful for the opportunity to work with an organisation that helps implement projects that support women and seek equality," says Shaimaa.
Hope For The Next Generation of Women in Gaza
Although we have come a long way, gender inequality is still prevalent and women around the world face injustice every day. Shaimaa shares the team's hope for the next generation of women in Gaza. "We hope that the next generation will have equal access to education, healthcare, and economic opportunities. We hope that they live in a world where they are not restricted by traditional gender roles and social barriers but are able to pursue their passions."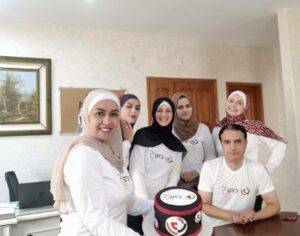 Pictured: The CTG Gaza Team