Highlights from CTG's Account Management Academy: Q&A with Charlene Gichuru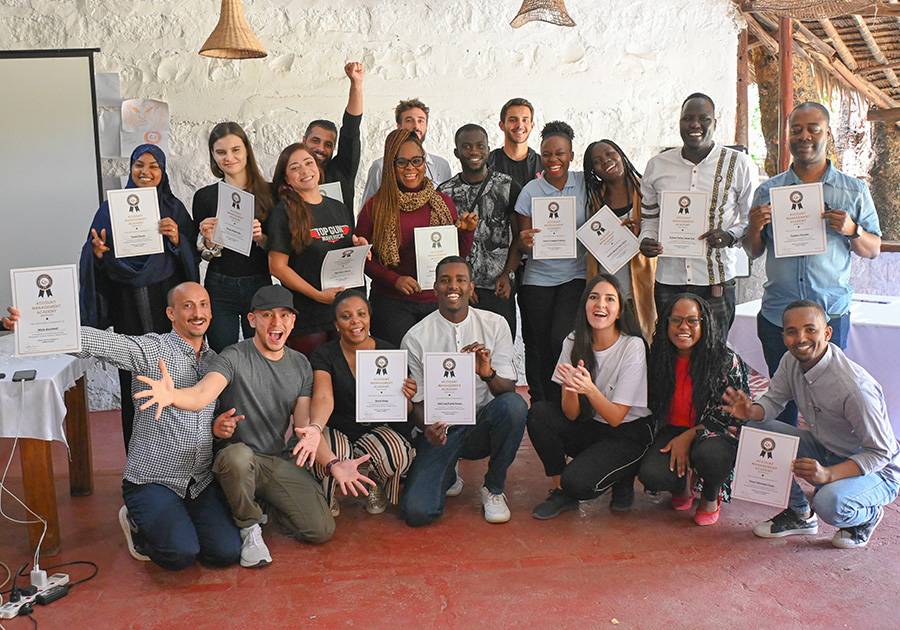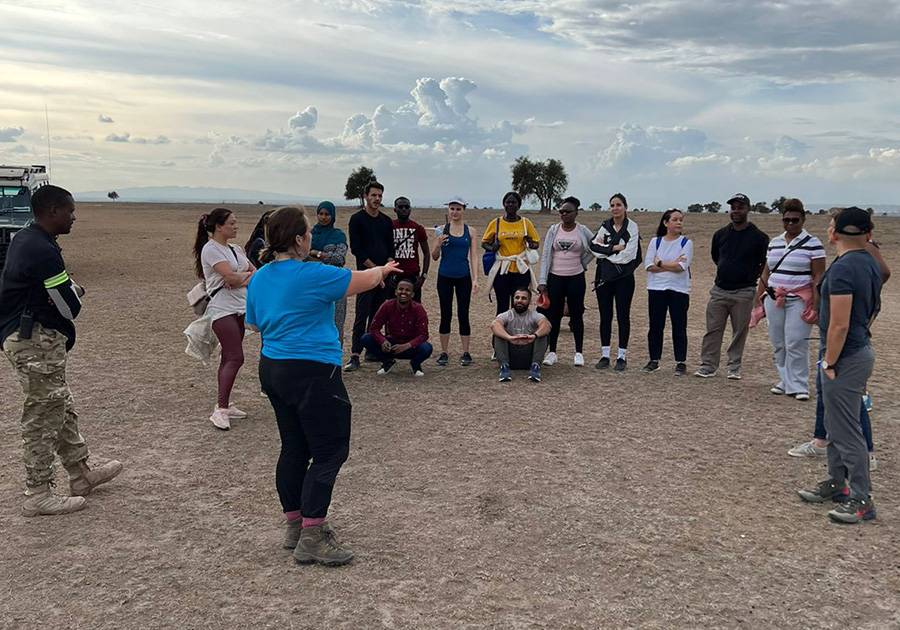 Pictured above: CTG Account Managers celebrate with their Account Manager Academy Certificates
Pictured to the right: CTG Account Manager Yasmin gives CPR as part of her first aid training
30 CTG staff from around our locations of operation such as Somalia, South Sudan, Ethiopia, Nigeria, Afghanistan, and Gaza attended the training. Charlene Gichuru, who was previously based in our Somalia office, and now supports CTG clients in Ethiopia, described the exercise as both "educational and fun". She talks us through the experience, below.
Charlene's Experience of the Account Management Academy
Tell us about your experience of the training and how it was structured?
It was like no other training I have gone through; I found it very educational and fun at the same time. We started off going for a safari drive, and not even the dull weather could lessen our excitement as we spotted some of the big five.
Meeting different Account Managers across the different regions in which CTG operates in was really inspiring – there were Account Managers from all over the world, including South Sudan and Afghanistan. We covered many trainings, from Duty of Care and safety, to incident reporting and management of risk. We also covered the DNA of CTG, the CTG Code of Conduct that all our staff must abide by, and the different types of contracts, which the legal team ran through. The digital team trained us on our CTG-designed HR platform Tayo and how to upload requisitions. We learned that one of the ways that Tayo makes our delivery more efficient is it speeds up the process by 3 days!
It was interesting hearing our COO James responding to some of the questions that Account Managers would pose, discussions about the challenges that we face on the ground, and how we can get support from HQ. Each topic covered was not more that one and a half hours so this made it easier to concentrate and digest the material. The interactive sessions were made more interesting because after every training session, we would have a team activity and the winner would get a prize, so this accelerated more understanding of the topics.
My favourite sessions were covering the Induction (how we onboard staff around the world) and the last session on learning styles. The Induction session was covered by Kim, CTG Field Liaison Officer, and Mildred , CTG System Analyst, where Kim was the Account Manager and Mildred the consultant. The case scenario displayed Kim doing a 'bad' induction and asked what could have been done right – it's essential that all of our consultants have thorough onboarding, covering topics such as timesheets, PSEA and Duty of Care before they start working in their humanitarian roles. The humour in this session made everyone participate and we got to see how different Account Managers go about their inductions with consultants. The learning styles were also very interesting as we saw Account Managers divided into different teams to cover what they have learnt throughout the Account Management Academy and the creativity around this was amazing to witness.
What was your favourite part of the training?
My favourite thing about the training was the interactive sessions where everyone was participating and sharing their ideas and views. I got to see how different Acount Managers tackle issues, their creative sides in putting materials together during presentations and their sense of humour. All the Account Managers were engaged and were interested throughout the training. The organisers must feel very proud. It was also nice to put faces behind email addresses.
What was it like meeting the other CTG Account Managers – did you learn anything from them?
Meeting other Account Managers was great; I got to see how their brilliant minds work, the different skills they have, and the things we have in common as colleagues. I enjoyed interacting with them to find solutions to shared challenges, borrowing their styles of working such as how they welcome new consultants into country, using ICE (in case of emergency) cards and handling certain cases. It was also interesting to meet Account Managers from regions such as Ukraine.  
What was your key take-away after the training?
One of my key take-aways was learning how to work as a team and not in a silo, even though we are a global company with locations around the world. Part of the Account Manager Academy Training also focused on Situational Awareness, and a refresher on Duty of Care training. We practiced CPR and how to respond in high-risk situations such as kidnappings or shootings.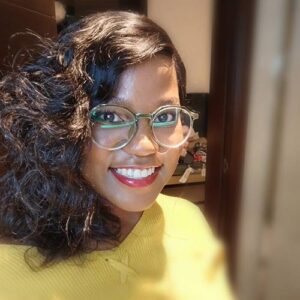 Charlene is a Human Resources, administration and client relationship enthusiast with wide experience in managing client expectations, communications, contracts and handling logistics. Extremely dedicated and result-oriented Administrative Executive, with over 6 years of comprehensive experience in high-level operational and administrative management. Charlene is also passionate about policies and justice. When away from work, you can find her camping, rope and rock climbing or volunteering in animal shelters.